Be The Light
Annual Suicide Prevention Glow Walk, organized by the Wapello County Children's Alliance & Resilient Communities Wapello County. A family friendly event that features mental health providers and resources from across our state and community. 100% of proceeds are pledged towards mental health awareness and suicide prevention projects in Wapello County.


Wear Blue
Wearing blue the first Friday of each month represents your support for the prevention of Child Abuse and neglect. Join businesses and individuals across the community as we grow a better tomorrow, together. We all have a role in child abuse prevention.

Billboards
Fortunately, we live in a diverse community which creates opportunities to learn about cultures from around the world. Together we make up our resilient community. We all have a role in ensuring safe, stable nurturing relationships and environments for all children. Our hope is these billboards remind our community we are all in this together.

Mission 500
There is a housing shortage in Ottumwa. And it is impacting everything from employee recruitment to quality of life. Mission 500 is here to change that. This collaborative effort between the City of Ottumwa, the Legacy Foundation, and an engaged committee of community stakeholders have come together to tackle the problem head-on. You can follow along as we use innovative and purpose-driven tools to foster the addition of 500 new residences in Ottumwa by 2030.

Parent Cafes
Supporting parents and strengthening families is the heart of Resilient Communities Wapello County. Parents and caregivers have involvement in decision making, planning, and implementation of the RCWC strategic plan, Parent Cafes, and beyond.

Social Media Campaigns
It is often the small moments that teach resilience, build relationships, and strengthen connections. Our social media campaigns are designed with the small moments that matter in mind

K9 Program
The Police K9's extraordinary abilities of smell, agility, courage, and determination are recognized both nationally and internationally. Our police dog is trained to:
• Track to find lost/endangered missing children and adults.
• Perform public relations between the Police and the community.
• Be a highly visible deterrent to criminal activity.

Yard Signs
These double sided yard signs display two messages designed by University of Iowa students in partnership with the Wapello County Equity Team. They increase unity and amplify the norm that everyone is welcome.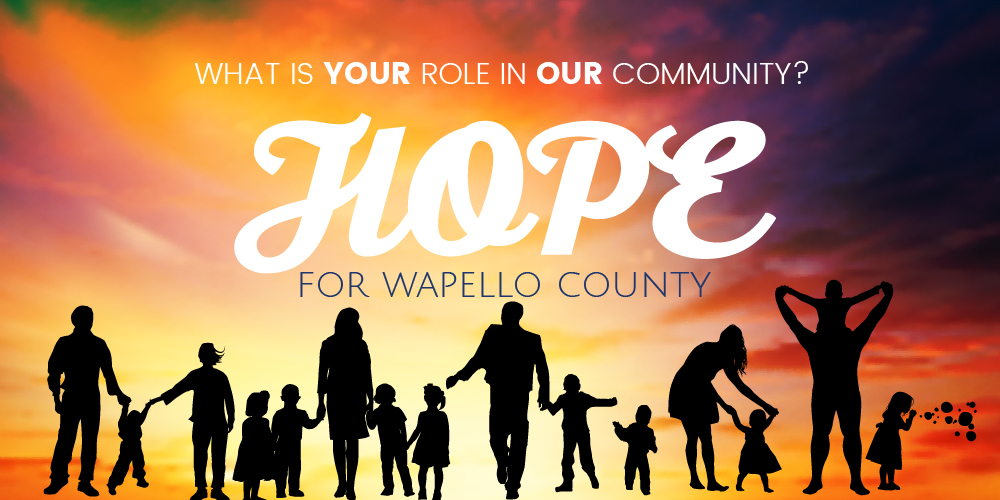 HOPE Event
The HOPE Event was an interactive event to learn about Wapello County through the release of our 2021 Community Needs Assessment. We invited participants to engage in a journey to better understand OUR community and how YOU can make a difference. Day 1 of this event was held at OCSD Career Campus and day 2 was held at Ottumwa YMCA. Both days were hosted by members of the Resilient Communities Steering Committee.